If you're looking to get an electric drum set, it really is amazing what you can get for your money. The problem is, where do you start? Never fear, we'll help you beat (get it? sorry) through the confusion with our review and picks of the 5 best electronic drums under $400.
Music is and always will be one of the greatest forms of self-expression. And the drum? At its core, it's one of the simplest instruments made. But thanks to technology, you don't have to beat a stick on an empty bucket. Just like everything else, it's all digital.
Traditional drum sets consist of drums and other percussive instruments played by a pair of drumsticks. They usually cost around $300-$700, the cheaper ones aimed at junior players while the most expensive ones are for the professionals.
There are always going to be those that prefer traditional drums. We can save that debate for later. But the bottom line is: Electronic drums are awesome, especially given the price. They are easier to own, sound great, and they come with an amazing array of features and other cool stuff you can do.
Want to learn more? Let's get to our picks for the best electric drums.
Alesis Nitro Kit
The Alesis Nitro Kit is one of the more expensive electronic drums on this list; however, it proves itself to be worth the price with its plethora of features. Commonly sold for $299, this electronic drum set boasts a wide collection of drums perfect for beginners and enthusiasts alike.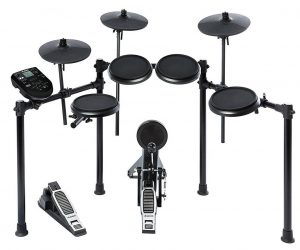 Features:
Dynamic, comfortable pads
8-inch high-quality drum pads
Backlit segment LCD display
Kick pad tower with bass drum pedal
4-post aluminum mounting rack
60 built-in play-along tracks
40 ready-to-play classic and modern kits
385 custom sounds
Compatibility with MAC and Windows
This particular drum kit is a bestseller for many reasons. For one, it is the perfect place for beginners to start learning the basics of drums. You can easily use this drum set as a learning tool. It even features a headset-only output for you to assess your performances by yourself.
The Alesis Nitro Kit is designed for sturdiness and durability. No matter how hard you play, the drum set will hold. This kit features a 4-post aluminum mounting rack that holds its 8-inch high-quality drum pads in place. You can rock along to your favorite song as hard as you can without worrying about the drum set falling apart.
Moreover, this drum kit is built to be flexible and secure. You can easily adjust the height of the components depending on your preference. Setup is also made easy by its memory lock feature – you are sure to be jamming in no time at all.
There are 40 ready-to-play classic and modern kits included with your purchase. If you are not fully satisfied with this selection, you can create your own kit using its 385 custom sounds. There are 60 built-in play-along tracks you can choose from for you to learn and practice.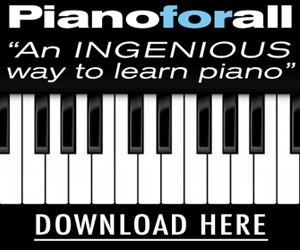 Indeed, the Alesis Nitro Kit is a solid buy with its quality drums, huge selection, and guaranteed durability. If you want to invest in an electronic drum kit that seamlessly blends traditional drumming with modernization, this is the perfect pick.
Pyle Electronic Drum Set PTED06
If you are looking for a more portable drum kit model, the Pyle PTED06 Set may be for you. It is exceptionally user-friendly for beginner drummers but versatile enough for more experienced players to enjoy. Commonly sold for more or less $199, this drum set features compactness with the ability to customize your drumming experience.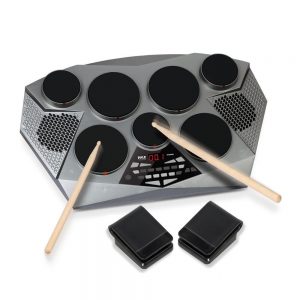 Features:
All-in-one electronic drum kit
Seven sensitive drum pads
Two pedals
Onboard speakers
Drum Trainer Feature
LED Digital Display
Can run on batteries
Tabletop Design
Compatibility with MAC and PC
The Pyle PTED06 is said to be one of the best drum sets for people new to drumming. This drum kit has a Drum Trainer Feature which helps entry-level drummers learn at their own pace. Even if you're already an experienced drummer, you'll appreciate this drum kit's ability to shred with you!
It is designed to be small and portable enough for you to practice anywhere. It only weighs 10.4 pounds – lightweight enough for you to be able to jam wherever you would like.
This drum can be powered by 6C batteries. You will not need to worry about cords and wires getting tangled or stuck. You can literally just place the drum kit down and perform, perfect for quick gigs or practices.
This drum kit features a tabletop design that lets you use any flat surface as your performance area. If you want a more authentic drumming experience, you can buy a mount separately.
It has an LED Digital Display to aid you in selecting your kits; this display is especially convenient in dark or poorly lit areas. You can easily view your available kits, then press or tap to make your choice. This device has 100 sounds built-in for you to use. Creating your own kits is also easy with the PTED06; it is a viable choice for an audition or rehearsal tool.
The Pyle PTED06 is simple and straightforward; it is on the cheaper side of the spectrum but does not disappoint with its features and structure.
Alesis CompactKit 7
This drum kit is another set from Alesis; however, unlike its Nitro set, this drum set is designed for on-the-go drummers. Compared to other portable drum sets, it is more expensive, at around $270. Its quality and huge selection account for the price difference, along with its many features.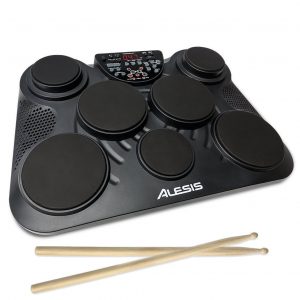 Features:
Seven velocity-sensitive pads
Two pedals
Self-recording feature
Can run on batteries
100 built-in songs
Hand Percussion Mode
Built-in metronome
Tabletop design
The Alesis CompactKit 7 is basic enough for beginners to pick up but has enough control for drumming veterans. It is perfect for the young and old alike; it even has safety features built-in. If you attempt to turn the volume to unsafe levels, it shuts off by itself to prevent damaging the internal speakers.
If you are looking for a practice tool, then the CompactKit 7 is perfect for you. It has built-in speaker and headphone output jacks; with this feature, you can tune in to your music whenever, wherever, without disturbing anybody.
It can run for up to 14 hours on 6 C batteries, making it the perfect drum kit to bring while traveling. It has a tabletop design which allows you to play on any flat surface.
You do not even need drumsticks with the CompactKit 7. If you want to jam out bongo-style, there is a Hand Percussion button you can press. Use your palms and fingers to create unique music!
Moreover, the Alesis CompactKit 7 also does not hold back on its built-in sounds and songs. There are easily hundreds of percussive sounds you can choose from; additionally, there are 100 built-in songs you can practice until you are comfortable enough to play your own choice of songs. There is even a self-recording feature for you to customize your experience even further!
Indeed, the Alesis CompactKit 7 offers value for its price. It is portable, easy to learn, and offers much customization for its users.
Kat Percussion KTMP1 
If you are on a tight budget, the Kat Percussion KTMP1 may be what you are looking for. It is a fairly cheap electronic drum for only $109.91; however, it does not come with drumsticks, pedals, speakers, or a stand. You will have to pick and buy your accessories separately. This makes it a solid choice for those on edge about their dedication to drumming and want to try it out first.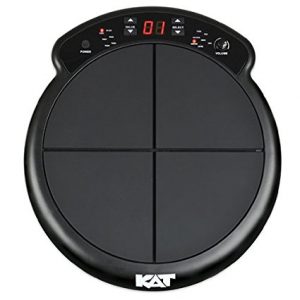 Features:
Four velocity-sensitive pads
Compact design
USB/MIDI connectivity
50 drum and percussion sounds
Built-in headphone output jack
The Kat Percussion KTMP1 is possibly one of the cheapest electronic drums in the market. It features four velocity-sensitive pads you can use to jam to your favorite songs. You can easily connect it to your computer and drum along to the song of your choice.
Drummers of any age can play the Kat Percussion KTMP1; its pads are sensitive and smooth enough to be handled even by kids. Moreover, if you want an electronic drum as an addition to your traditional set, you can't go wrong with the KTMP1. It has 50 drums and percussion sounds you can use and incorporate into your performances. You can assign individual sounds to each of its four pads.
This particular drum set is also recommendable if you want to practice without disturbing anybody. You will have no issue drumming the night away, as the Kat Percussion KTMP1 has a built-in headphone output jack; it will just be you and the music without any interruption.
The Kat Percussion KTMP1 has a mounting stand but does not come with a stand itself. If you have a basic snare drum, you don't need to buy another mount specifically for the KTMP1.
Even though this particular drum does not beat the others with specifics, its main asset is its simplicity. It's a cheap electronic drum you can use as a foundation for your set.
Yamaha DD65
The Yamaha DD65 offers great variety and quality while being competitive with its pricing. It is sold for $203.23 as a set, including drumsticks, closed-cup headphones, power supply, and drum pedals.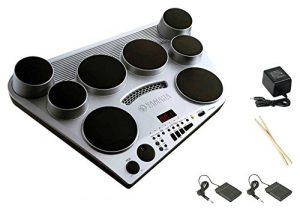 Features:
Eight touch-sensitive drum pads
100 built-in songs
Portable design
254 GM-compatible voices
Large 3-digit LCD
50 built-in drum and custom kits
Tabletop design
Hand Percussion Mode
Even though most portable drum sets are considered to be toys, instruments like the Yamaha DD65 can be used professionally. It has 50 pre-programmed drum kits you can use for your performances. Picking is just a matter of pressing buttons; its large 3-digit LCD display makes sifting through the choices easier.
It features eight touch-sensitive drum pads that you can easily learn to play to the tune of your preferred songs. You can easily control the tempo using Tap Start! Recording songs is also possible with the DD65, but you have to take into consideration that it can only store five at a time.
The Yamaha DD65 can be played with both drumsticks and mere fingers. It has a Hand Percussion Mode for you to enjoy.
Its portable design also makes it a viable option for drummers who travel. You can just plug your headphones or speakers in and show off your drumming skills.
If you think you're still in need of practice, the Yamaha DD65 has 100 built-in play along songs you can choose from. You can use its included closed cup headphones to practice in private; only you can hear the music you create. This drum kit can easily connect to an MP3 player which means you can get better at drumming using your favorite songs!
The Yamaha DD65 is a versatile option for an electronic drum. If you're willing to invest in a drum for its quality sounds and variety of choices, consider this particular drum set.
How do you choose the best drum for you?
There is no one-size-fits-all when it comes to choosing your instruments. There are several factors you have to consider before clicking that "Purchase" button. Here are a few that you have to take into consideration:
Purpose
You have to determine what you need drums for; if you're only buying drums to test your passion for the instrument, it may not be wise to spend a fortune. It's easy to buy more professional drums in the future once you're 100% sure about drumming.
Take note where you want your drums to be. You may want your drums built for portability. On the other hand, you may want your drum set to be durable. Take note of these aspects of the drum.
Features
A drum being expensive does not necessarily mean it's better. There are cheaper drums on the market which have more features than most big-name brands. Weigh the pros and cons of each product out carefully before deciding.
Living Conditions
A key difference between traditional and electronic drums is the space it occupies. Electronic drums are viable for people who live in more cramped areas. Choose an electronic drum that fits within your available house space.
If you live in an apartment with nearby neighbors, choose an electronic drum that has a headphone output jack. This enables you to listen to your music without disturbing other people.
Skill Level
Some electronic drums are more beginner-friendly than others. More complicated setups are recommended for drumming veterans. Don't spend money on high-end drumming equipment if you don't even know the basics!
Cost
The final thing you have to consider is if you can buy your perfect electronic drums with your current budget. If you're on a particularly tight budget, you can choose to wait until you have enough or try your hand at cheaper brands.
Indeed, it takes time for musicians to find their perfect instrument. If you truly believe drums are your perfect fit, list down these factors and begin your search. Find the ideal balance between these aspects, and you're sure to end up with a drum fit to express yourself creatively!