Playing the piano is a beautiful talent. It gives you harmony and joyous feeling, especially if you put your heart to it. Learning it, however, is a different matter. From painful fingers to missed keys frustrations, learning piano can look like a difficult journey. But, nothing is impossible.
When you are just getting started to play the piano, it can be hard to find some easy songs that do not sound lame. For a beginner, you might want to show off a bit and play some great classical pieces or pop songs but they seem to have a challenge or too difficult for your level.
No worries! While mastering piano pieces of Beethoven, Bach, or Mozart seems intimidating, there are several easy piano songs that are suitable for beginner levels that can make you look cool. Here are some of them:
1. Fur Elise
Sorry, did you mean THAT Fur Elise?
Oh, yes, it is THAT Fur Elise you are thinking of right now! Beethoven's Fur Elise seems intimidating when you hear an expert pianist play it due to its complex arrangement, however, this scary piece can be easily learned by beginners. Beginners won't have a hard time picking its melody and can use a simplified bass root notes for the left hand.
Check this video to learn it:
 2. All About the Bass
Meghan Trainor's pop song easily hit the top of music charts. This particular song can be easily played by beginners with a piano. It has chords of A – Bmin – E – A. Every chord is played for 2 bars and the whole progression of the piece is eight bars.
The best part?
For the whole song, you only need to repeat this progression.
When practicing, play the bass line first with your left hand and after you mastered that, go with the melody with your right hand. Listen how the verse's melody differs from the chorus and later, the chords will be played with continuous eighth notes.
Check this video tutorial: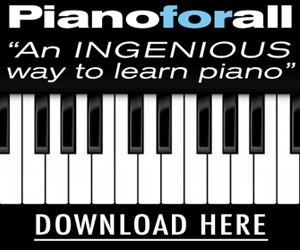 3. Someone Like You
Song Artist, Adele popularized this hit song from her album 21 which top the charts in nearly 10 countries. By playing 4 repeated chords: A – E – F#min – D, you can play the song from verse to chorus. While your left hand continuously play arpeggios, use your right hand to play the melody.
Here is a play-along video to help you learn this song:  
4. To a Wild Rose
A simple yet sophisticated piece by Edward MacDowell. "To a Wild Rose" is a very simple track where you can use both hands and easy to follow for all piano beginners. This classical piece has simple fingering and you can play it with one hand at a time and play with both hands when you feel you can do it.
Here is a video tutorial for you to learn: 
5. Stay With Me
Feel a total expert in playing the piano with this easy to play pop song by Sam Smith. Luck for you, this famous song artist decided to use only 3 chords; Amin – F – C with similar rhythm for the whole song. There are other arrangements for this song.
This video shows how you can add some other cool keys and fills to make the song more interesting: 
6. Dance of the Sugar Plum Fairy
Maybe you have watched that Barbie movie entitled "The Nutcracker"? Did you hear that classical piano piece while the fairies dance? Yes, that's the "Dance of the Sugar Plum Fairy". Sounds complicated? That will make you cooler! A classical piano piece by Tchaikovsky, this iconic song from your childhood is fun to learn. You can learn it slowly or fast as you want. This piano song is also great for practicing your stacattos.
Here is a sample video tutorial for you: 
7. Billie Jeans
King of ___, Michael Jackson, popularized this pop song from his album Thriller, dating back to the year 1982. Focusing on the synth part of the song, these 3 chords is what you play: F#min – G#min – A – G#min with your right hand. These 3 chords have a four-note bass line for you to play with your left hand. There is a second bass line after chords move to Bbmin. You can play all verse and chorus of this song using those 2 chord sections and 2 bass lines.
Here is a video for you to play along 
8. Minuet in G
This classical piece by famous pianist Bach sounds pretty difficult, however, it is very easy to learn. It is a classical piano song for all ages. The original arrangement by Bach can be a little intimidating for many beginners, however, because of its popularity, there are numerous arrangements made easy that can be found on the internet.
Check out this Video Tutorial: 
9. Clocks
Boy band Coldplay's biggest hit, "Clocks" dates back in the year 2002. Because it is still popular and recognizable after this years, it is one of the easiest pop songs that can be played by beginners. The signature arpeggio pattern is played by the right hand. The left hand is responsible for the chords and lines up with the right hand's arpeggio. Eb – Bbmin – Fmin Are the chords used in the verse and chorus. For one bar, Eb is played, two for Bmin, and one for Fmin. On the bridge, the chords are played with continuous eighth notes: Gb – Db – Ab.
Check this video for a tutorial: 
10. Claire du Lune
This classical piano piece by another famous pianist, Debussy, means "Moonlight". It is a straightforward piece that is very easy to learn and play for beginners. Although the original can be really scary, there are many other arrangements made easy that can be found on the internet.
Here is a tutorial: