Have you ever dreamed of going up on stage with your guitar and making thousands of fans scream and swoon? If yes, then your first step to becoming a rockstar is buying your guitar. But you're not rich yet, so we need to find you the best electric guitar for the money. Check it out. .
There are thousands of options for electric guitars out there. There's a lot of good and probably more bad. Since you need to start practicing ASAP, we saved you some time and made this list.
In this article, we have a short list of the best guitars that will fit right into your budget. If you want a good quality guitar that will not set you back thousands of dollars, keep on reading. You can begin your musical journey with any one of these affordable yet high-quality options. And please, don't forget us when you make it big. . . maybe just a liner note or a shout out. . .
Davison Electric Guitar Beginner Starter Package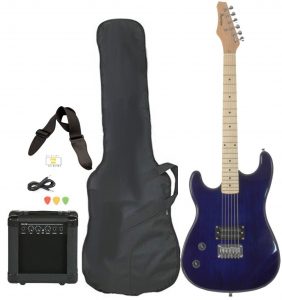 This guitar fits right into your budget. It costs less than $100, and it already has everything you need to start playing. This is a beginner starter package and already includes an amplifier, case, and accessories. It is one of the best-rated guitars on Amazon, so customers must have been satisfied with its quality and value.
This Davison Beginner Starter Package includes a 39-inch, full-size guitar with a glossy finish. Its body is made of solid basswood, a bolted maple neck, and a rosewood fretboard. It also comes with a gig bag, strap, string-winder cable, and pitch-pipe picks.
The amplifier it comes with is the Hollinger BC-08. It has a headphone jack so you can play into the night without having to worry about disturbing anyone else. It also allows you to make distortions because of its overdrive mode. You might hear a bit of a buzz when you turn it up loud, but it sounds perfectly fine at lower volumes.
This guitar is very user-friendly for beginners. It is designed to allow beginners to learn faster. It also has a single Humbucker pickup and no pickup toggle. Beginners can get a good grasp of how the general feel of playing an electric guitar is with this model.
The guitar can likewise produce heavy rock tones, making it a good fit for those who into this genre.
Pros:
Full 39-inch size
Includes a good quality amplifier
Includes a case and accessories
Very cheap at less than $100
Basic design and simple to use
Lightweight and suitable for adults or kids
Cons:
Amp makes a buzzing sound when the volume is high
Cannot be upgraded
High string tension
This guitar comes in different colors, so you are given a variety of options to choose from. It has a sleek design that aids in faster learning at a price that is undoubtedly a steal.
LyxPro Electric Guitar Complete Beginner Starter Kit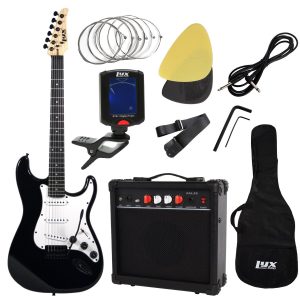 This starter kit is perfect for beginners and intermediate players alike. It comes with all the accessories would need to begin playing at an affordable rate of less than $140. While some may doubt the quality of such a cheap product, it is made with good quality materials.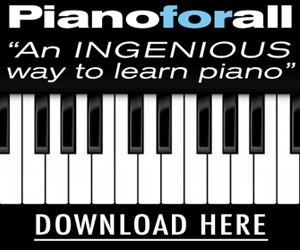 The guitar included in this kit comes in a full 39-inch size. The body is made of solid wood with a Canadian maple neck and a rosewood fingerboard. The neck is adjustable so different players can customize it according to their preferred comfort and range.
The 20-watt amp included in the pack is small and will not take up much space. It has a headphone jack to give you privacy while you are playing. The amp features an overdrive button as well.
The included accessories in this package are a tremolo bar, two picks, a shoulder strap, a digital clip-on tuner, and six additional strings. You can also store your guitar in the included carrying bag for safekeeping and easy portability.
Pros:
Very affordable at less than $140
Well-built and sleek design
Complete package for beginners
Full 39-inch size
Includes a compact amp
Produces vibrant tones
Cons:
Poor quality strap
Cheaply made strings
The fret has rough edges
For an electric guitar of this price range, it does perform beyond usual expectations, yet you can expect certain compromises in quality. Some customers even suggested purchasing a different set of strings if you can. Regardless, there this guitar offers good playability and users do get a good value from purchasing this kit.
Epiphone PPEG-EGL1VSCH1 Les Paul Electric Guitar Player Package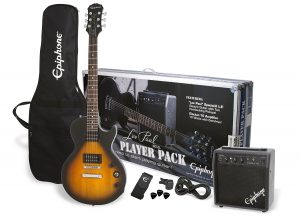 This guitar will surely keep you interested in playing because it emulates the legendary Gibson Les Paul. It looks and feels similar to its inspiration model, but you can have this for less than $200.
In the package, you will get the Les Paul Special-II LTD. It has a mahogany build and a rosewood fingerboard. It also includes an amplifier, a gig bag, a clip-on headstock chromatic tuner, a strap, and medium picks. There are also free downloadable guitar lessons available on the company website. If you do not mind paying double the price of the first two options, then this Epiphone product is a worthy buy.
The Les Paul Special-II LTD guitar has two humbucking pickups and a pickup toggle switch. You will surely get hooked because the 700T and 650R pickups give you that authentic Les Paul signature sound. This basically has toned-down features of the classic Gibson Les Paul.
If you want more acoustic tones, you can adjust the truss rod. Just make sure that you know how to do this. If not, ask for help from more experienced users. Mishandling this instrument could cause it permanently damage and no one wants that.
Pros:
Well-built and easy to use
Visually appealing
Highly similar appearance and sound as the Gibson Les Paul
Compete beginner package
Includes free downloadable instructions
Cons:
Slim design is not ideal for players with bigger hands
Poor quality amplifier
Easily breakable strings
If you want a guitar that looks visually attractive and sounds musically appealing, then the Epiphone Les Paul Electric Guitar Player Package is a great choice. At such a reasonable price, you are not only getting complete accessories but also a guitar that will not let you set it down, it is addictive.
Squier by Fender Short Scale Stratocaster Pack
Squier guitars have grown in popularity because of the Fender name tied to it. Fender is among the most successful guitar brands worldwide, and Squier guitars are made to give you budget-friendly options that are close to having an actual Fender.
The short scale Stratocaster beginner pack will cost you only a little over $200. This package also includes all the necessary accessories and equipment you will need to start playing. Beginners who want to start learning immediately can enjoy great value for money with this purchase.
The short scale Stratocaster measures only 24 inches. If you have shorter and smaller hands, this could prove to be a good fit for you. The body is made of poplar and has a gloss polyurethane finish. The neck is made of maple and finished with natural satin, and the rosewood fingerboard has a radius of 9.5 inches.
The guitar has control knobs and three single-coil pickups on its lightweight body. You can also tune the guitar with the hardtail bridge.
The included amplifier is the Frontman 10G. It has a headphone jack, a tube-emulated overdrive, and a saturated distortion. It has controls for volume, treble, and bass. You can rock out your favorite tunes or quietly practice without having to disturb anyone.
Other accessories are also included, like a cable, a strap, and some picks. There is also an instructional DVD that comes with the package. You are guaranteed to start playing like a pro in no time with these detailed instructions and a very easy to handle instrument.
Pros:
Inexpensive at around $200
Fender quality for a lower price
Comes with a complete starter package
Perfect for beginners
Shorter design for smaller hands
Cons:
Strings are cheap
A little difficult to keep in tune
Not designed to last a long time
Squier guitars are cheap versions of Fender, so they understandably will not last a lifetime. It is catered for newbies who will eventually move on to better and more expensive guitars. This may not be appealing to pros, but this is great for beginners. It is well built and produces a nice sound for untrained ears.
Epiphone ENCIAWGH3 Ltd Ed Les Paul Standard
The Ltd Ed Les Paul Standard is probably the most raved electric guitar from Epiphone. This will cost you a little bit higher at almost $500, which is quite a jump compared the other four. However, this price tag will surely not disappoint you. This guitar is loved and praised by players worldwide. It is considered a classic and one of the most sought-after guitars ever made.
The guitar's body is a solid singe-cut made of mahogany with an AAA Flame Maple Veneer top. The neck is made of mahogany Slim Taper, and the rosewood fingerboard features trapezoid in-lays. This looks truly elegant and gives you that rock star appeal.
This guitar is ready to be played right out of the box. This is also a good choice for beginners as it has a scale length of only 24 inches. This instrument is very lightweight at only 8 lbs. The strings have less tension, and the slim design allows you to play comfortably.
Unfortunately, this does not come with any accessories. This guitar is a great option for people who already own the necessary equipment needed to play an electric guitar. Should you decide to purchase this, like its million aficionados all over the world, you will love the rich and deep tones this produces.
Pros:
High-quality guitar
Lightweight
Produces consistent smooth, rich and warm tones
Available in four colors: Ebony, Metallic Gold, Red, and Pelham Blue
Has a durable set neck
Cons:
Does not come with accessories
Expensive at around $500
If you like playing music from the metal, rock, or jazz genres, then this guitar is perfect for you. The tones it produces create pristine melodies that you and your audience will truly love. This instrument is great for those who are willing to spend a lot more for a standard electric guitar.
Factors to Consider When Buying an Electric Guitar
If you are on a budget, carefully weighing in your options is important. You cannot just buy the cheapest guitar you find. You have to make sure that the money you spend will not go to waste. Before you buy anything, ask yourself these questions to ensure that you are getting the best possible option.
Who are you buying it for?
Are you buying for yourself or as a gift to someone else? Consider the person who is going to use it. Is he a beginner or a pro? Does he need a complete set or just the guitar itself? You have to know what the person's preferences are if you are not purchasing for personal use.
Do you like how it sounds?
Before you buy a guitar, test it. Listen to the sound it makes. Is it to your liking? Even if you want to buy a guitar online, you can still frequent local music stores to check out your options. You can also check Youtube videos to see how these instruments perform.
Is the overall look appealing to you?
No one wants to play an ugly looking guitar. The aesthetics of an instrument is the first thing that attracts the buyer. If the guitar looks cool to you, then you will get a bit of motivation to keep using it. Just remember not to prioritize how the guitar looks at how it sounds.
How does it feel?
The guitar should fit comfortably in your hands. Consider the size and shape of the body, the thickness of the neck and the radius of the fretboard. If you are buying from an actual store, it will be easy to see how the guitar feels to you. However, if you are buying online, make sure that dimensions and materials are listed so you can determine if it is the right fit for you.
Does it fit your budget?
Of course, money is a huge factor. There are many affordable guitars out there that offer high-quality. There is no need to settle for cheap but terrible sounding guitars when there are more options in the market.
Conclusion
If you have been searching for a well-made guitar that gives you a great bang for your buck, look no further. The guitars mentioned in this article are proven to be the best you can get in their price range.
Guitar players, especially the beginners, can be able to play an electric guitar without spending over their budgets. You can improve your skills with these and buy a more expensive one when you think you are ready. Hopefully, this guide helped you in picking out which one best suits your preferences and your budget.