The KORG B1 is an entry-level digital piano that has a compact and very stylish design. It is an instrument all of its own, not a ramped up or stripped down version of another model. It is designed from square one with Korg's cutting-edge sampling technology that gives them a solid reputation in manufacturing high quality and affordable electronic musical instruments.
The B1 has many wonderful features that would satisfy any piano player's needs. It has straightforward controls that students and beginners can easily learn to play. It is not too advanced technologically so you can get the hang of using it in a very short period of time.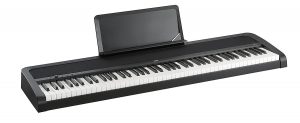 Features:
Equipped with 88 weighted keys with the hammer action feature
Comes with a built-in stereo system
Offers eight digitally-tested voices
Has an onboard reverb and chorus effect
Transportable at just 26 pounds of weight
Comes with textured keys
Partner Mode feature for side-by-side playing
Advantages
MFB Speaker Technology
The Korg B1 relies on Korg's servo-assisted MFB technology, which gives you the clear, rich, and resonant sound of an acoustic piano with every touch of a key. It comes with full-range speakers that offer an amplification of 9 watts, just enough volume for playing at home. At an affordable price of just under $500, I was surprised to find two oval speakers measuring 3.94 x 1.97 inches built in this digital piano.
The Sound
With its PCM sampling technology, Korg captures a concert grand sound very well, not exactly like a real concert grand, but impressive enough. It has an expressive tonal range and can reproduce sympathetic string vibrations and damper resonances. It delivers very bright and crisp sounds as well as earthy bass notes.
The B1 has eight instrument sounds that include three grand pianos (Concert, Jazz, Ballad), two electric pianos, a couple of organs (pipe and electric), and a harpsichord. Digital pianos primarily reproduce the real sound of an acoustic piano, but it would not hurt to have the exciting addition of other sounds as well.
The Feel
 The Korg B1 comes with the Natural Weighted Hammer (NH) keyboard that tries to replicate the weight and feel of a real acoustic piano. It gives you a heavier touch at the lower keys and lighter touch at upper ones. Experienced players will find this feature very useful, and I have to agree with them on this. This will give you the feel of playing on an authentic acoustic piano and let the newbies learn how it feels to play on one.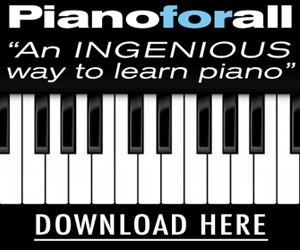 The touch of this keyboard can easily be adjusted because of the three different sensitivity levels you can choose from: Lighter, Normal (which is the default), and Heavier. To produce a powerful sound, turn the setting on to Heavier and press the keys harder. For players with a lighter touch, the Lighter setting is ideal, as it will produce a loud sound even if you press the keys softly.
The 88 keys are very responsive to the touch. They react to faster playing and bounces nicely when playing any style. The keys are made of plastic, but they do not produce clacking sounds like most plastic-made keys of cheaper quality pianos.
Features
The Korg B1 has a Partner Mode feature, also known as Duet Play that lets you split the piano's keyboard into two different keyboards with the same pitch ranges. It is perfect for piano teachers who want their students to learn by copying their movements. Playing duets can also be an enjoyable experience.
It has a 120-note polyphony feature that can play at low frequencies with almost no distortion at all. Polyphony is the number of notes you can play at once while the pedal is held down, and the higher the polyphony number, the better. It has a transpose and tuning function that allows you to raise or lower the pitch of the entire keyboard in semitone steps. It also lets you change the pitch of the entire keyboard in increments of 0.5 Hz steps (from the standard A4=440 Hz).
The B1 has a metronome built in that is an essential feature especially for those that are just starting out with their musical careers. It delivers a steady beat to play along with and teaches newbies timekeeping skills and a sense of rhythm. The time signature, tempo, and volume of the metronome are easily adjustable to suit your needs.
This digital piano has a compact and lightweight body. Weighing just 26 pounds and measuring 51.6 x 13.2 x 4.6 inches, it is very transportable and ideal for those living in dorms or small apartments.
Disadvantages
The Korg B1 is best suited for beginners and intermediate players but would bore the advanced or performing pianists. This digital piano does not offer the same level of realism as some of the higher end models available. It does not have as many voices and features as other digital pianos of the same price, which can be quite limiting for the creativity of the more experienced players.
It is not equipped with an LED screen to display the voices and sounds being used as you play. It has a headphone jack and pedal connectors but does not come with either, you have to buy them separately. This digital piano has a sleek and streamlined design, but this does not seem to match the components that are inside. It has wonderful features, but could definitely be better.
It has very loud top volume, but it is not suitable for performances on bigger venues or outside the house. It has additional sounds, but no strings, vibraphone or bass sounds like the models in its category.
Conclusion
Like most digital pianos, the Korg B1 has significant advantages over acoustic pianos. It almost sounds and feels like one and does not need to be tuned. It has an affordable price and has many useful features that would help the beginner in honing their skills or those wanting to have something to practice on. This is something you would want if you are learning as this can give you what you need without sacrificing quality.