Ready to start playing guitar but you don't want to break the bank? If so, you're in the right place. We have our picks for the best acoustic guitar under $500.
Being able to play the guitar is a dream a lot of people have. Whether it's a desire to express yourself or a desire to impress people with your talent, you can make that dream a reality in a few simple steps. Step One is getting a guitar.
Buying a new guitar means making a decision of which guitar to choose. Because there are thousands of options out there, it is somewhat hard to narrow it down to the best. With the intention of helping you make the right and cost-effective decision, this article lists down a few guitars that fit into your $500 budget.
1. Jasmine S35 Acoustic Guitar

The Jasmine S35 is the best quality you can get at its price range. This guitar will only cost you less than $80, and it is one of the best-rated cheap guitars on Amazon. This is a decent enough instrument for the beginner who is only starting the journey through music.
This guitar is made by Takamine, a Japanese brand that manufactures affordable guitars. The Jasmine S35 has a spruce top and Nato back and sides, all of which are laminated. The neck is also made of Nato with a rosewood fretboard. This also features Jasmine's advanced X bracing which makes it a pretty stable guitar considering its price.
The Jasmine S35 has good playability and has a comfortable feel. The scale length is standard at 25.5 inches, and the nut is made of synthetic bone and measures 1.75 inches in length.
These guitars usually need to be set up before you play it at optimum levels. Out-of-the-box, the saddle may be too high, and the guitar needs to be tuned first as well. A proper setup gives you the best value for your money.
For a cheap guitar, the sound quality is something you wouldn't expect. The tone is surprisingly smooth with well-balanced highs and lows.
Pros:
Very cheap at less than $80
Nice dreadnought body
Utilizes advanced X bracing for a more open sound
Produces smooth, warm tones
Light and comfortable feel
Cons:
Setup is required
Needs frequent tuning
Average build and design
For a guitar in this price range, you won't find anything better than the Jasmine S35. It is decently built and produces consistent and balanced tones. This is a great choice for those who are only testing whether they want to be serious about their playing or not.
2. Epiphone DR-100 Acoustic Guitar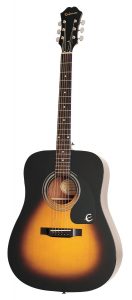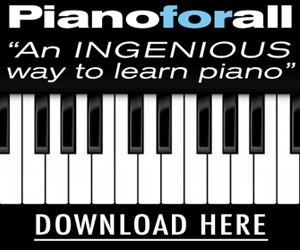 The Epiphone DR-100 is the brand's bestselling acoustic guitar. This is priced at less than $130 and is one of the best affordable guitars out there. This is a good choice for beginners, and it will also be able to keep up as you progress.
The dreadnought shape of the DR-100 features a select spruce top and mahogany back and sides. The neck is also made of mahogany with a rosewood fingerboard and bridge while the neck features Epiphone's SlimTaper profile.
The tonewoods used for this guitar allows for rich, warm tones. It gives complex highs with good clarity and thick lows. The spruce gives it that high dynamic sound while the mahogany tones it down.
For beginners, tuning the guitar can be a difficult task. Luckily, the DR-100 makes it easier for you. This guitar's headstock is bent at a 14-degree angle and has high-quality die-cast tuners. This makes the instrument stay in tune for a longer time.
Pros:
Simple design and good finish
Adjustable action smooth fretboard
Stays in tune longer than other models
Produces good overall sound quality
Lightweight at 8 lbs.
Cons:
Average wood quality
Develops fret buzz over time
This is a great guitar for those who want a cheaper option from well-known brands. While this cannot be compared to guitars on a higher price range, this is a decent instrument in and of itself. It produces the very sound quality that you would expect from anything bearing the Epiphone name.
3. Fender Acoustic Guitar Bundle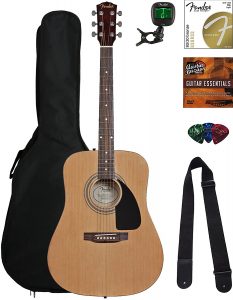 This bundle from Fender is a good start for beginners. The guitar in this bundle is the Fender FA-100. It also includes accessories that a newbie performer might need. You can own this bundle for less than $150. Even the more experienced player can use this for practice sessions.
Coming from a well-known brand, the Fender FA-100 is as good a quality as it can get for its price range. The dreadnought body has a laminated spruce top and basswood sides and back. It has a glossy C-shaped maple neck with a laminated hardwood fretboard. It has 20 frets which is what you'd expect from a full-sized acoustic guitar.
This guitar has good playability. Even beginners could easily press down on the fretboard. Pros may complain about a slight buzzing because of how close the strings are to it, but for a beginner, this wouldn't be much of a problem.
Other accessories included in this bundle are a gig bag, a tuner, strings, a strap, picks, and a polishing cloth. This also comes with an Austin Bazaar Instructional DVD, which means you are all set up to start as soon as you purchase this bundle.
Pros:
Affordable at less than $150
Full-sized dreadnought guitar
Complete with accessories
Pleasant overall sound quality
Cons:
Buzzing on the strings
Not suitable for serious performances
This guitar gives you good value for money, considering that it's manufactured by a worldwide trusted brand. This entry-level guitar also comes as a complete bundle, and this affordable pack has everything you need to start your musical journey.
4. Yamaha FG800 Acoustic Guitar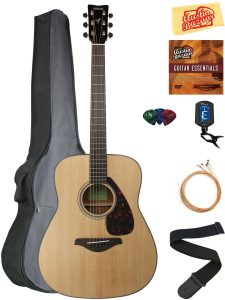 This guitar is perfect for beginners and advanced players alike. It costs a decent price of less than $200. For its range, it produces excellent sound quality that you will surely love. This also comes with a bundle of accessories that complete a beginner's guitar needs.
The Yamaha FG800 has a Sitka spruce top with Nato back and sides. The dreadnought body also features a new scalloped bracing, and the fingerboard and bridge are of rosewood. The die-cast tuners keep the guitar in tune. Its nut and saddle are made of Urea, which is a kind of plastic.
This guitar has high action so it may be a little difficult to play especially for beginners. There should be nothing wrong with high action guitars, but it is easier to play the higher notes on guitars with lower action.
The Yamaha FG800 is built to last you a long time. This means that the sound quality will improve over time. Initially, the sound it produces is better than you would expect. It is warm and rich across the frequency range, and it creates a mellow, balanced performance.
Pros:
Gives good value for your money
Better than expected sound quality
Well-made and built to last a lifetime
Cons:
High action
Requires initial setup
No strap post at the top
The overall look of this guitar may not be the most appealing, but it does offer good quality sound. Sound is much more important than looks in a musical instrument after all. With the Yamaha FG800, you get a perfectly decent guitar from a famous brand name.
5. Taylor BT2 Baby Taylor Acoustic Guitar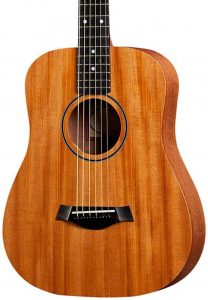 The Taylor BT2 was originally made for kids and travelers. It has a smaller body that makes it easy to play. Nowadays, even the pros have a kick out of this one. It is visually appealing, and it produces a sound quality that you can expect from a Taylor guitar.
This guitar will cost you less than $330. It has a 3/4-sized dreadnought body. The top is made of solid mahogany, and the back and sides are made of layered Sapele. The neck is also made of Sapele with a rosewood fretboard. It has a laminated finish with a smooth varnish all over the top and neck.
The playability of this guitar is rather good. For a 3/4 –sized guitar, the action seems to be at the perfect level. This is also a good choice for adults, especially those who have smaller hands.
The dreadnought shape of this guitar allows for a defined warm tone despite its smaller size. The tonewoods produce bold tones that are rich and powerful.
Pros:
Perfect for kids and adults with smaller hands
Good playability
Affordable at around $300
Excellent sound quality
Comes with a gig bag
Cons:
Not for people who are used to playing full-sized guitars
Needs constant tuning
If you have a little bit more money to spend, the Taylor BT2 is a good choice for you. This guitar looks beautiful, and it does not sacrifice the quality of the sound. Whether you are a child, a traveler, or an adult with smaller hands, this guitar is the perfect match for you.
Conclusion
Listed above are some of the best-rated acoustic guitars out on the market. These are all budget-friendly, costing only less than $500. These guitars give you the best value for money and are definitely worth at least your consideration.