Many think that classical pianists should stick to an acoustic piano because of the sounds it produces and the form it takes. However, newer instruments now embrace both the digital age and the classics. So, whether you are diving on a Beethoven piece or Chopin's scherzos, classical pianists who want to improve their skills can use a digital piano to both practice and perform.
But with so many digital pianos on the market, we have come up with a list of the best that are available. All these digital pianos are ideal for classical music.
---
Yamaha P105

This is perhaps the all-time favorite in the digital piano world. Yamaha P105 is a versatile 88-key model with exceptionally good quality and sound. You know an instrument is so good when people start to talk about it. For the Yamaha P105, it garnered many positive reviews.
Yamaha P105 produces sounds sampled from the popular CFIII concert grand Yamaha piano. It has a built-in duet partner, too. This is useful for learning or opening different kinds of playing styles. In addition, if you want to add some jam on your classical tone, drum patterns are readily available. This digital piano features a USB port, an AUX plug-in, and a headphone output.
Everything looks and works perfectly. However, you need to shell out a few more bucks on the bundle that includes a stand. But you can opt to just place it on the table to save. The speakers run a bit small to produce a large, reverberating sound as well. Yamaha P105 is available in black or white color.
Pros:
Realistic key texture, completely weighted with "GHS action"
Sound is acoustic
Good key action
Nice LED display
Cons:
Speakers are a bit small
Key action can be a bit noisy
---
Casio PX860 BK Privia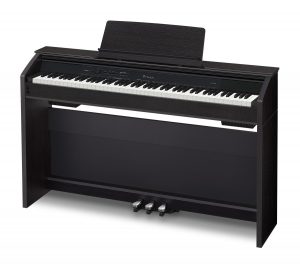 The Casio PX860 BK Privia is another 88-key digital piano that will not disappoint. It is packed with Tri-sensor scale hammered technology for the keyboard action alignment. This instrument boasts three levels of touch response. This allows you to capture and memorize your performance with speed and accuracy. Its keys are made from ivory and simulated ebony design.
This instrument features 256 polyphony notes. It has another 18 tones that you can choose to create an ideal sound and personalize play style. It also boasts of 10 high-quality audio recordings to suit your professional palate.
The Casio PX-860 offers a really good playing experience any piano within this price range cannot compete. This is a good choice for classical pianists who are on a budget. By the way, did I mention its keys are made from simulated ebony and ivory? Such materials make this piano feel more natural.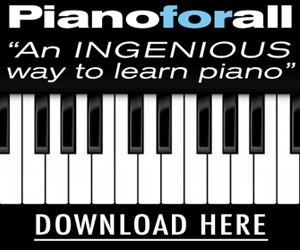 Pros:
Price is affordable for a good quality instrument
Features simulated ebony and ivory keys
250 built-in instrument tones
128 notes of polyphony
Cons:
Its appearance does not resemble an acoustic piano
---
Yamaha DGX650B
The Yamaha DGX650B is similar to most of Yamaha's digital pianos. But its pristine sound quality makes this stand out from the rest. It utilizes PureCF sample audio taken from the famous CFIIIS Concert Gran. However, you will need to hear it in reverberating volume because of its 6-watt speakers.
This is versatile as it is also suitable for beginners. Its Smart Chord feature spots the correct code based on the notes pressed by the left hand. With this, you will only need to play the single notes and let the Smart Chord do the rest.
The Yamaha DGX650B features a graded hammer standard. Such design allows this machine to produce an acoustic piano sound expression. You can definitely expect a refined dynamics and nuanced tone on this.
This 88-key digital piano features USB ports that allow you to share and record your music. It can also be conveniently connected to an external device via the AUX-in port.
Pros:
Smart Chord feature
Great acoustic tone
Realistic action key
Cons:
There is a learning curve to get to know its features
Volume output is not that high
---
Yamaha Arius YDP-181
When you talk about sound and spring keys on a keyboard, the Yamaha Arius YDP-181 has it. This machine embraces both the features of an electronic piano and the taste of acoustic instrument.
It has a solid keyboard featuring a graded hammer key action. All keys are made from synthetic ivory. This gives the piano an excellent sound to listen. In addition, it offers a pure and top-notch CF sound engine.
But most reviewers love the new stereophonic optimizer headphone that comes with this keyboard. It also has a USB cable port, making it compatible with external devices.
Pros:
Good sound, key action, and design
Comes with internal speakers
Has adjustable touch sensitivity
Features 14 quality voices
Cons:
The bench is a bit narrow
Pedals need break-in
---
Nord Stage 3

If you are not on a shoestring budget, the Nord Stage 3[/easyazon_link] is a powerful digital piano you can get. It features an 88-note keybed with Triple Sensor, some grand weighted action, and an OLED display. Talk about its memory, this instrument is packed with a hefty 1GB of Nord Piano Library sounds.
In case you want to deviate a little from the classical, the Nord Stage 3 offers some effects that you can easily tweak. Examples are overdrive sim, pan, tremolo, and wah-wah. In terms of sounds, its piano section boasts of three dynamic curves, a versatile string resonance, and a gentle, soft release.
Pros:
Keyboard has a piano-like response
Excellent with acoustic pianos, and sample library
With high-quality effects on board
Cons:
A bit expensive but worth it for the quality
Not pitch bend or mod wheel
---
Korg SV-1

This outstanding piece of machinery is definitely one of the best digital pianos for those who are on a budget. It works perfectly both on stage and at home. You can take a break from the classical sounds and explore [easyazon_link identifier="B0072343EC" locale="US"]Korg SV-1 wide range of sounds like organs, synths, and strings. This is also Korg's first attempt into the world of vintage keyboards. It packages sounds like Rhodes piano, Wurlitzer EP200s, Hammond B3s, and Hohner Clavinets in a whole new level.
This piano boasts of an FX chain, an amp modeling, an equalizer, a pre-fx with compression, a u-vibe, and a modulation fx. It has some reverb and delay to help those minor keys. But for most reviewers, the selling point of Korg SV-1 is its ability to sound like a grand acoustic piano.
Pros:
Very playable action
Great FX
Nice amp modeling with stretch tuning and velocity curves
Available in two sizes (73 and 88-note)
Cons:
Weak Hammond sounds
Heavy to transport
---
Conclusion
Overall, while acoustic pianos are still rated as the best by many, digital pianos are starting to close that gap in recent years. They offer portability, decent tone, and volume control without maintenance. And just as what you may have noticed, they all come with excellent features now like LED display, FX, metronomes, and other sound and voices.
However, through time and technology, digital pianos have become more authentic in both sound and feeling. But when asked if these keyboards have fully replaced acoustic pianos, the answer still depends on the pianists.
Anyway, make sure you carefully read the review above before making a decision.