Classical guitars are not to be confused with acoustic guitars. These guitars have smaller bodies. The nylon strings are also easier to press compared to steel-stringed acoustic guitars.
Acoustic guitars are widely used for any style of music, but classical guitars are more for the classical music. So, if you prefer to be a classical musician and are looking for a guitar that is suited for you, check out this list.
---
1. Yamaha C40 Classical Guitar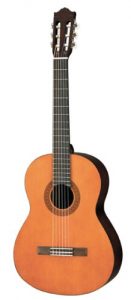 This full-size classical guitar from  Yamaha C40 Classical Guitar is a good choice for beginners. It is top quality at an affordable price of less than $140. From a well-known brand of musical instruments, this guitar will surely not disappoint you.
As to be expected from this price range, the C40 is made of laminated wood. It has a spruce top with Indonesian Mahogany for the back and sides. The rosewood fretboard has 18 frets with a rosewood bridge to match. It also has a solid Nato neck. This is all finished with Melamine Gloss.
The Yamaha C40 Classical Guitar has mostly ordinary features. Like any classical guitar, it has a non-cutaway body. The headstock has chrome open-ear tuning machines.
Sound-wise, the C40 delivers decent enough. Beginners who are testing the waters can start with the C40. If you are a more experienced guitarist, you can still use this for practices.
Pros:
Designed for beginners
Very affordable at less than $140
Produces clear and crisp tone
Small 22.8 in. scale length body
Cons:
Lack of fret inlays can be confusing for beginners
The string may need to be replaced and tuned often
This classical guitar from Yamaha is great if you want to start learning but do not want to spend too much. It has good build and sound that you may expect from its price range.
---
2. Fender Squier Classical Acoustic Guitar

The Squier brand is a subsidiary of Fender, so this next guitar is sure of the good quality. It also costs less than $140, so it is very affordable. Fender Squier Classical Acoustic Guitar also a complete package so it has everything you will probably need to play if you are a fingerpicking beginner.
This full-size guitar is made of laminated wood. It has a linden wood top and mahogany back and sides. The neck is made of mahogany, and stained maple fretboard has 18 frets.
Fender Squier Classical Acoustic Guitar features the scalloped X bracing on the slotted headstock are open-geared tuners. There is also a rosewood bridge and a plastic 52 mm nut.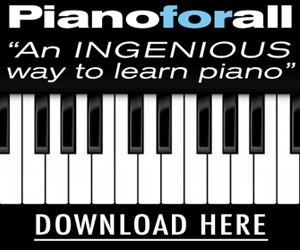 The extra accessories that come with this are a gig bag, tuner, footrest, extra strings, and a polishing cloth. If you are a beginner, the Austin Bazaar Instructional DVD can help you get started.
Pros:
Inexpensive at less than $140
Good choice for beginners
Comes with a complete package
Clear sound projection
Cons:
Bridge easily separated from the body
Needs to be set up first
---
3. Yamaha CG122MCH Solid Cedar Top Classical Guitar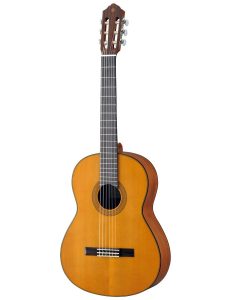 If you are on a budget but can spend a little bit more, then try the Yamaha CG122MCH. This will cost you less than $220. This is another one from Yamaha and has features similar to their GC series classical guitars. It will deliver good sound quality for a sensible performance.
The guitar has a solid cedar top with a 3-ply neck construction. It has a rosewood fingerboard and bridge and has 19 frets. The guitar is complete with a natural matte finish. This is a full-size guitar with a 25.6 in. scale. It is well made and has a simple design.
The tone that is produced by Yamaha CG122MCH is quite impressive for its price range. The sound is calm and soothing, so it is perfect to use when you plan on serenading someone. The volume is good enough. Not too loud, but not too soft either.
The action on the strings is low and cannot be modified. There is no adjustable truss rod. You will be comfortable playing it because there is no sharp-edged on the fret.
Pros:
Affordable at only a little over $200
Produces dry and woody tone perfect for classical and romantic songs
Low string action
High-quality build
Cons:
Needs amplifier if you want a louder sound
Can't give you a richer tone
This is also a beginner-friendly guitar. It is in the lower price range and has better sound quality than you would expect.
---
4. Cordoba C5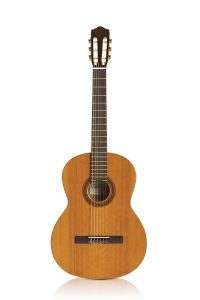 Cordoba prides the C5 as their flagship model. It is handmade in the traditional Spanish-style. Cordoba C5 is recommended for the serious beginner. It will cost you less than $340 for this high-performing quality guitar.
This full-size guitar has a solid Canadian cedar top and mahogany back and sides. It has a rosewood fingerboard, bridge, and binding. It also features a hand-carved headstock and an all-wood inlaid rosette.
The tonewoods used in this guitar gives it that warm tone that you know a well-made guitar gives. The fan bracing system allows the tone to be louder. It has a bigger area for vibration and responds better to string tension.
Pros:
Lightweight
Full 650 mm scale length
Two-way truss rod
Produces incredible sound
Well-built
Cons:
Gets out of tune fast
May have rough edges on the fret
This guitar from Cordoba may not be the cheapest beginner guitar, but it does give good value for your money. The craftsmanship is high quality, and the sound quality is pretty great.
---
5. Yamaha CG172SF Nylon String Flamenco Guitar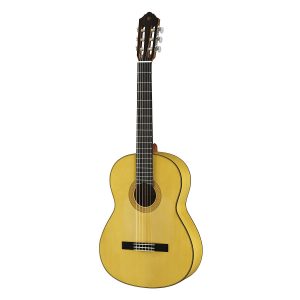 This $350 classical guitar from Yamaha will give you that classical flamenco sound. Yamaha Flamenco Guitar is a good beginner guitar. It may come off as pricey, but I can assure you that this guitar is worth it.
The Yamaha Flamenco Guitar has a solid European spruce top and a cypress back and sides. The neck is made of Nato with a rosewood fingerboard and bridge. It also has flamenco scratchplates. The body has dark binding and has a natural finish.
The guitar needs proper setup so if you do not know how better take it to a professional. It has a durable saddle, nut, and tuners and they work really well with the rest of the guitar's parts.
The guitar may sound better with strings other than the set it comes with. However, if you cannot afford to buy a new set just yet, those are decent enough. The tones are rich and are perfect for flamenco style music. It is also good for other classical music, but it is more suited for that genre.
Pros:
Good build quality
Producer rich tones for flamenco music
Has good intonation
Loud and clear volume
Cons:
Has a slow bridge
High action on strings
Another one from a trusted brand that will not disappoint, the CG172SF is one great guitar. If you like flamenco music, this guitar is perfect to play those.
---
6. Antonio Giuliani CL6 Rosewood Classical Guitar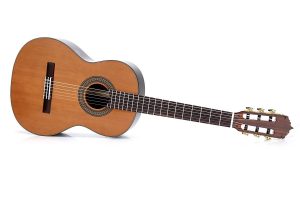 This classical guitar comes in a complete package that has all the accessories you need to play the guitar. The Antonio Giuliani CL6 will cost you less than $470. This is backed by a lifetime guarantee and a 45-day money-back guarantee. Therefore, if you think you are not getting your money's worth, you can avail the warranty.
The body of the guitar has a solid Canadian cedar top with rosewood back and sides. This is definitely what should be expected of a guitar at this price range. Cheaper guitars will use laminated wood to make it more affordable.
This features a Dual-Action truss rod so you will be able to choose among light, medium, or heavy tension on the strings. There are no rough edges on the frets because those have been hand-leveled, crowned, and polished.
Pros:
Comes with a lifetime warranty and a 45-day money-back guarantee
Proper setup will be made when you buy
Produces very nice and rich tones
Comes with a complete package
Cons:
More on the expensive side at about $470
Low-quality case
The Antonio Giuliani CL6 comes in a complete package. This may be not as cheap as other beginner guitars, but if you want a better sound quality over those, then this is for you.
---
7. Cordoba C7 SP Acoustic Nylon String Classical Guitar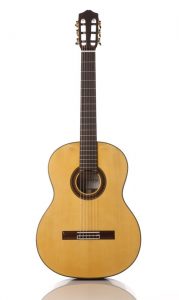 The Cordoba C7 SP Acoustic Guitar is an upgrade from the C5. Because it has improvements from the previous model, of course, it is more expensive. This is priced at less than $500. This is a great choice for beginners as well as advanced players.
The Cordoba C7 SP Acoustic Guitar can have either a solid Canadian cedar top or a solid European spruce top. This is combined with rosewood back, sides, and binding. The neck is made of mahogany with a rosewood fingerboard and bridge. It also has a hand-inlaid wooden rosette and a natural high gloss finish.
With the non-cutaway body shape, the sound is produced loud and clear. The sound is strong but well balanced. The rosewood used on the body makes it perfect for fingerpicking as it produces the most melodic notes.
Pros:
Produces deep and rich sounds
Has a high volume
Very easy string tension
Entry-level concert quality
Cons:
Maybe pricey for those on a budget
The company has poor customer service
---
8. Cordoba C9 CD/MH Acoustic Nylon String Classical Guitar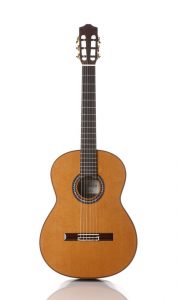 This is the most expensive out of this list but do not skip this guitar. It may be priced at around $860, but it will give you good value for the amount you pay. It is part of Cordoba's Luthier series and is one of its flagship models.
Cordoba C9 Nylon String Classical Guitar is made of solid Canadian cedar top or (solid European spruce) and solid mahogany back and sides. It has a rosewood fingerboard with a C-shape mahogany neck. The binding and bridge are made of Indian rosewood, and this is all finished with high gloss.
This is a full-size 650 mm scale guitar with a 52 mm nut width. It is also lightweight, so it is easy to carry around and has a two-way truss rod.
Unsurprisingly, the sound this guitar produces is absolutely amazing. Being an all-solid guitar, it has a warm and well-rounded tone. A louder tone can also be achieved because of the responsive soundboard.
Pros:
Full-size guitar
Concert-level sound quality
Made from solid wood
Lightweight
Includes a polyfoam case
Cons:
Maybe expensive for beginners
Cheap looking rosette sticker
The Luthier series of Cordoba is for the serious musician looking for concert-level instruments. The Cordoba C9 is one of these instruments and deserves to be praised for the build and sound quality it has.
---
Factors to Consider When Buying Classical Guitars
Your Skill Level
Classical guitars are made for different kinds of people, or more specifically, differently skilled people. When you are already a pro, you will not have much difficulty in the section process. However, if you are a beginner knowing yourself is important. There are classical guitars out there that are easier to use for beginners.
The Wood Quality
Laminated or solid? Laminated woods are mostly used for cheaper guitars. Using solid wood for the guitar makes it more expensive. Understandably, solid wood has better sound quality than laminated ones. If you are a beginner, you might not be able to tell the difference yet, but that is not the same with seasoned musicians.
Try It out First
This is better than when you shop at a physical store. You can test the feel of the instrument to see if it is the right one for you. Play all the strings, does it sound good to you? The weight should also be comfortable for you.
However, of course, when you shop online, it would be more difficult. Try to do some research first and read online reviews. It could help you pick out the pros and cons of each product.
Your Budget
Money is always a big factor. If the price is never an issue, the good for you. But for those who want good value for their money better choose carefully. Makes sure that you are spending on the most suitable guitar for you.
---
Conclusion
Classical guitars are easier on the fingers because of the nylon strings. Compared to its steel-stringed counterparts, they are easier to press. This may be a good choice to start with for those interested in playing. They are perfect for classical music, but they are good for other genres too. So give classical guitars a chance.
This list is for the budding classical musician who is looking for a suitable classical guitar. The items included on this list are bestsellers and top-rated on Amazon. With so much to choose from out on the market, it has been narrowed down to this article hopefully you find something the best matches with your preferences.