One of the most common musical instruments present in bands nowadays is the bass guitar. In fact, bass guitars are already used as stand-alone instruments – especially for jazz players. But with the many variations of the instrument, such as its number of strings, the material of its body, and numerous other features, there are several types of bass guitars to choose from.
If you are looking to purchase your very own bass guitar, let us help you through running down some of the best and most affordable bass guitars available on the market today. We have collected and reviewed three bass guitars priced under $500.
---
ESP LTD B204 Spalted Maple Bass Guitar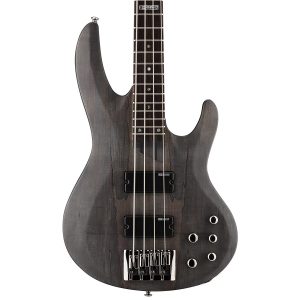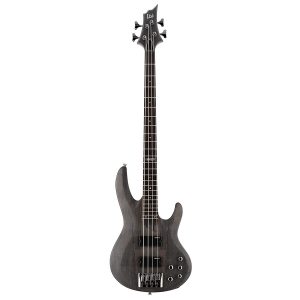 Widely known Japanese guitar manufacturer, the Electric Sound Products (ESP) Company Limited is focused on creating electric guitars and basses. This is why guitars from their brand are credible for quality performance.
One of their most esteemed bass guitars is the ESP LTD B204 Spalted Maple Bass Guitar. Rated five out of five stars in Amazon.com, the guitar is priced at around $475. The product weighs almost 12 pounds with the dimensions 54 x 19 x 5 inches.
Pros:
Comes with an LTD BB-604 bridge with string through
Comes in three unique colors: (1) see thru black satin, (2) see thru red, (3) natural satin
ESP instruments have a limited lifetime warranty
Neck is satin-finished
Lightweight
Cons:
Reported to have slight buzzing sound
Consumes 9-volt batteries
---
Ibanez GSR200SM 4-String Electric Bass Guitar

The Ibanez GSR200SM 4-string electric guitar is very lightweight, weighing only nine pounds with 40 x 3 x 12 inches as its dimensions. This makes the guitar perfect for beginners or musicians on the go. The Ibanez guitar is priced at around $250 and is available in the colors spalted maple or mahogany with a rosewood fretboard with dot inlays.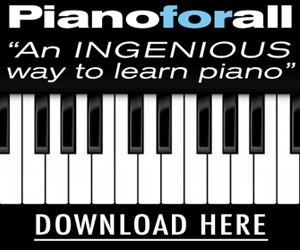 Pros:
Beginner-friendly
Cheap and affordable
Aesthetically pleasing
Good pick-up
Lightweight and portable
Cons:
Reported to have fret buzzes
---
Hofner HOF-HI-CB-BK 4-String Bass Guitar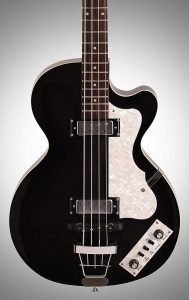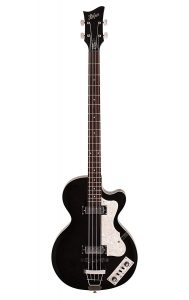 Last but not the least, we have the Hofner HOF-HI-CB-BK 4-String Bass Guitar. Priced at around $370, the Hofner bass guitar is one of the most well known electric bass guitars in music history.
The Hofner bass guitar weighs only 7.17 pounds and has the dimensions 53 x 17 x 6 inches.
With a hollow body, the finish of the guitar is one of the most sought-out appearances, and its sound delivers quality performance either plugged-in or not. The tone of the guitar is more vintage sounding, but you do not have to break the bank to get that classic sound.
Pros:
Lightweight and portable
Cheap and affordable
Beautiful finish
Nice, deep tone
Cons:
Some items have issues with the placements of the frets and strings
---
Factors to Consider When Purchasing a Bass Guitar
Budget
The reason we included the prices of the bass guitars in this list is for you to evaluate whether you have the budget to invest in the instrument. Like all investments, budget must be a factor in choosing your purchase.
There are a lot of other bass guitars to choose from, some way cheaper and in some way more expensive, but remember that the price of the bass guitars does not ensure high-quality performances. Especially for beginners who are just finding out what they want in a guitar, it may be unwise to splurge for a bass guitar at first glance.
Purpose
For the more experienced musicians, bass guitars have several features and different specialties. Some may prefer specific tonewoods or hardware. Some may want to invest in pick-ups, while others may want the aesthetics of the guitar to suit their creative personality. It is important to know what kind of guitar player you are to know what specifics to look for.
Body Materials
Guitars with bodies made out of harder woods have brighter sounds, which are mostly used for percussive accompaniments. Meanwhile, guitars with bodies made out of softer woods have warmer tones. Rockstars usually use softwoods.
Body Type
The shape of a guitar also impacts the tone of a guitar. Shapes come in solid bodies, semi-hollow bodies, and true hollow bodies. Solid bodies, which are mostly seen in electric and bass guitars, have the most sustain which allows notes to ring much longer. Such guitars are usually seen in rock bands or punk bands.
True hollow bodies are hollowed and perform like acoustic basses. Most jazz bassists use this type of guitar. In between the two aforementioned types is the semi-hollow body type, which produces a tone lighter than that of solid body types but with a warm sound.
Neck
The neck of a bass guitar includes the headstock, where the tuning pegs are located, the fretboard, where players place their fingers, and the truss rod, which is inside the neck.
There are three types of bass necks, namely: bolt-on neck, set-in neck, and neck-through neck. Bolt-on necks are guitar necks that are joined in with the body with screws or bolts. Set-in necks have necks that are joined in with the body through a mortise-and-tenon and secured with an adhesive.
These necks produce better resonance and sustain. Neck-through necks are necks that are extended throughout the entire length of the body of the guitar. These produce better response and sustain.
Pickups
For electric bass guitars, pickups are an especially important factor. There are two common types of pickups: the single coil pickup and the humbucker pickup.
The single coil pickup has one coil and one magnet. It transforms the vibration of the strings of the guitar to an electric signal. Single coil pickups have brighter tones as compared to the humbuckers, which produce warmer tones. Humbuckers, which were created to cancel out the noise usually heard in single coil pickups, are typically used to highlight the sustain of guitars.
String materials
There are seven different types of strings for bass guitars: the nickel-plated steel, the pure nickel, the stainless steel, the copper-plated steel, the nylon strings, the polymer coated strings, and the colored strings. Most common are the nickel-plated steel, which offers versatile tones, the pure nickel, which produces a softer sound, and the stainless steel, which produces bright and popping tones.
Number of strings
As we mentioned in the first part of this article, bass guitars have strings ranging from four to six strings. Four-string bass guitars are the most common, as they have smaller necks than the two other types of guitars and they produce tones adequate enough for most types of music. Five and six-string bass guitars have a lower B string, which widens the musical range of the guitar. Most of the time, jazz, hard rock, and metal bassists use this type of guitar.
---
Conclusion
There are a lot more factors to consider in buying your bass guitar, which is why we recommend that you read more about what you really want to purchase.
To start, the electric bass guitars we have mentioned in this article are three of the most recommended bass guitars available on the market today.  But as you can see, different factors produce different results, so it may also be wise to consult some experts to help you find the perfect bass guitar for you.