In order for you to play any stringed instrument, just like ukulele, you need to learn how to strum! Learning how to strum a ukulele may seem to be so intimidating. However, if you are going to follow some steps, you may be set fine on your own way of playing with so much ease. In this article, we are going to take a closer look on the steps on how to strum a ukulele. But before that, let us first discuss the important things you need to know before you get to learn how to do it. Read on to learn more!
Before Learning How To Strum
In order for you to begin strumming, first, you must learn to strum an instrument. Furthermore, before you can learn how to strum your instrument, there are some things that you must do.
Make certain that your nails are well-trimmed. The sound, which comes from your ukulele when you pluck it will not sound accurate if your own nails are much lengthier than just hardly beyond the fingertips' skin. One good way of checking the length of your nails is to clamp the hand, with the palm fronting you, and then see beyond just the tip, you may trim or file your nails.
Moreover, make sure you know how to hold the instrument. There's actually nothing special about holding the ukulele. The key is actually to ensure that you are comfortable. Of course, you don't want to put pressure on your wrist or cause any gratuitous tension. If you happen to get into the habit of playing with the tension, it may cause all kinds of medical conditions, in due course; so try to stay as relaxed as possible.
Support the body of the ukulele using your picking hand, and then hold the neck lightly with the fretting hand. The elbow must be at a more or less 90-degree angle, and the wrist must be relatively upright.
How To Strum A Ukulele?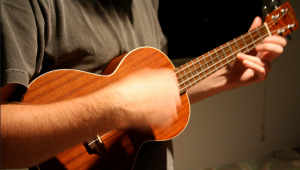 There are actually several patterns on strumming a ukulele, which you can try, yet in essence, there are up and down strums. When you are just learning to play, the easiest way for you to strum the ukulele is to basically strum up and down with the fingers.
Below are steps on how to strum a ukulele properly:
Step 1
Grip the ukulele, with its string fronting away from the stomach, and pull it up until you can already put your dominant hand on it. It will be just like you touching yourself on your stomach. One more way to imagine of this, is picturing a seatbelt, using the reediest part of the ukulele being pointed near the left-hand shoulder, and the hand will come across and hold the instrument in position.
Step 2
Grip the ukulele using the minor (non-dominant) hand, do not press the chords yet. You will only practice strumming the ukulele first.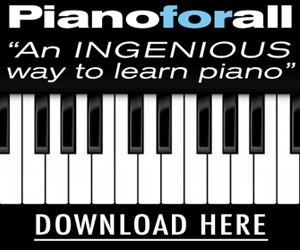 Step 3
Grip the fingers on the dominant hand together, and bring your fingers down athwart all the four strings of the instrument. Moreover, you may try strumming with only the pointing finger. This might be much simpler for some people.
Step 4
Repeat it once more. Practice down strums only, up until you finally get used to it. It may feel so weird in the beginning, and the fingers might find it hard strumming the 4 strings all at once, yet if you practice thoroughly, it will become much easier.
It is the greatest if you are going to practice for a whole several minutes. Once you already have learned all the essential stuff, well done! You already know now how to strum a ukulele.
Strumming With A Pick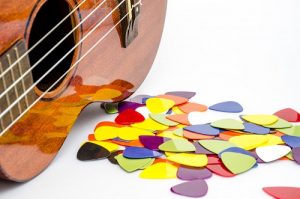 You may also strum your ukulele with a pick. You can do the up-down strum with whatever type of pick you have. If you hold the pick in your hand, you must hold it firmly, yet not that tight that it gives your hands tension or pain. Furthermore, hold the pick in between the thumb and the first finger. If you are going to use a pick, you may pick one string at a time, or you may strum upwards and downwards.
If you strum a ukulele using a pick, you don't need to worry about what to do with all your fingers. You may simply just strum up and down.
Additional Tips
If you happen to get frustrated, you can take breaks. Breathe, walk around a little bit, and drink some water, then come back and practice gradually.
Do not worry if you cannot get it in an instant. It will just take some practice, and once you get the hang of it, you will wonder how you will ever thought it's hard before.
Try to search for a peaceful and quiet place to rehearse learning how to strum. Either that quiet and peaceful place is in the backyard, your room, or in your closet, it is the best for you to rehearse in a more peaceful atmosphere. This may encourage you in practicing, without getting irritated.
If you want to learn more tips on how to strum and tune a ukulele, watch this video: https://youtu.be/eq03RaibpLM. I hope you are able to learn how to strum a ukulele in this article. Let us know your thoughts!