The Yamaha P45 Digital Piano is the latest 88-Key digital piano from the electronics giant, Yamaha. It is one of the most affordable and fully functional digital pianos in the market today. It has basic and simple features that are perfect for beginners to help them learn and develop proper technique and skill, yet also has excellent features that are popular with intermediate players as well as the pros.
It offers simplicity and high quality at a very affordable price which makes this a great learner's digital piano. Above all, it also offers the extensive realism that Yamaha instruments are quite known for. Let's find out more about its features in the in depth review below.
 Features:
Weighted keys are heavier in the lower keys and have a lighter touch on the higher end
Has an AWM (Advanced Wave Memory) sound engine of signature Yamaha craftsmanship
64-note polyphony which makes for a pleasing and more beautiful piano tone
Has a dual split mode that lets you play two voices at the same time
Offers USB connectivity which is compatible with an array of devices and apps
Has a matte finish that emulates the realistic feel of ivory
Compact and lightweight, weighing only 35 pounds, with a 52.2 x 11.5 x 6-inch dimensions
Comes with a sustain pedal for a more expressive sound
Simple and easy to use with its single button operation
Offers a wide range of voices that allow you to customize your playing style or create more diverse sounds
Has 6W + 6W (12cm x 2) speakers
Ten preset piano songs + 10 demo songs are included
Comes with ten instrument sounds (2 pianos)
Has metronome, transpose, and fine-tuning functions found in most digital pianos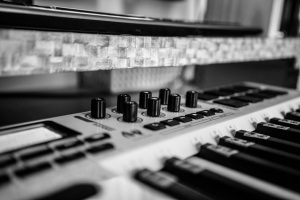 Advantages
The GHS Weighted Keys
The Yamaha P45 88-Key Digital Piano has the GHS keyboard (Graded Hammer Standard weighted action), an integral characteristic that Yamaha is renowned for. The low end of the keys is comparatively heavier than the high end, giving you that feeling of playing a real, upright or grand piano.
The GHS weighted keys are given the matte finish, specifically designed to imitate the look and feel of the real ivory keys of analog pianos.
This feature makes this digital piano the perfect choice for beginners just learning and developing their craft and the more advanced players looking to practice and strengthen their technique with a budget-friendly piano.
Advanced Wave Memory Technology
The Advanced Wave Memory (AWM) feature of The Yamaha P45 88-Key Digital Piano is the stereo sampling technology that is designed to make a more vibrant and realistic tone that sounds just like that of a real concert grand piano. Suffice it to say, this gives you the feel and sound of an acoustic piano with the wonderful benefits of a digital one.
64-note Polyphony
Polyphony is the total number of notes that a piano can play at once while the sustain pedal is being held down. The higher the polyphony number is, the better since this allows for a more expressive sound a player can get from a digital piano.
The Yamaha P45 88-Key Digital Piano boasts of a 64-note polyphony that lets you play any chord you can think of, as well as duets and more advanced pieces without any of the notes or music being cut out.
Dual Split Mode
The dual split mode feature lets you blend and layer two sounds together—strings and piano—for example, or any other combination of voices for that interesting and inspiring playing experience. It provides more depth and intensity to your classic pieces as well as contemporary and modern music.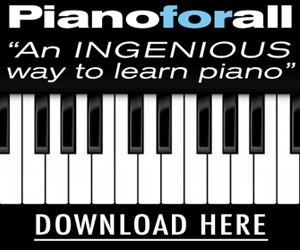 USB Connectivity
The Yamaha P45 88-Key Digital Piano is equipped with a USB connectivity that lets you connect and interact with a computer or mobile device using various music software and applications. Depending on the program, you can learn, record, compose, and edit your performances and enjoy other fun stuff that just a keyboard alone can't do.
Single Button Operation
Let's you operate the digital piano in just one flick of a button. You can change the settings and the voices, configure the metronome, play the demo sources and many others just by holding down the "Grand Piano Function."
Disadvantages
Fewer Features
The Yamaha P45 88-Key Digital Piano has a very affordable price, thus having the simpler and fewer features compared with those found in the higher-end and more expensive models. Also, most of the features are the more basic ones that will not be suitable for those wanting to experiment with different sounds, or those wanting to teach kids to play with as many sounds as possible.
Fewer Voices
The Yamaha P45 88-Key Digital Piano has only ten voices, less than what other models have, so it is not recommended for contemporary performers or those wanting to play around with different music genres and expecting more diverse sounds from their digital piano. In addition, the tone quality of the voices is not commendable either, having that dull quality as compared to the more expensive models.
The Speakers
The speakers on this digital piano are enough when used in a small room or when playing in front of a few people, but not powerful enough to be used when playing with a band or in a concert. Therefore, external speakers and amplifiers must be used for that purpose.
Conclusion
The Yamaha P45 88-Key Digital Piano is a simple yet excellent choice for people just beginning to learn to play the piano at home. It offers comprehensive realism minus all the complications of an expensive digital piano with excessive features and buttons that could be perplexing to the newbies.
Great for practicing and eventually transitioning into playing with the real thing as this digital piano definitely emulates playing the acoustic version. It has the feel and the sound of a real grand piano without the bells and whistles.
With all these positive traits, it isn't a wonder that the Yamaha P45 88-Key Digital Piano is also popular with the intermediate and professional players.