Buying a digital piano can be overwhelming at first. To avoid information overload, we have our picks for the 7 Best Digital Pianos under $500. This guide is perfect for anyone looking to get a quality keyboard without breaking your budget.
If you're new to buying a digital piano, be sure to check out our Ultimate Guide to Buying the Best Digital Piano, it will fill you in on what to look for in a digital keyboard.
Music has always been a part of our everyday lives. Everyone loves music. No matter what tastes you got, there is a genre for it Even the deaf can enjoy music through the vibrations it produces. They feel music rather than hear it.
Some people listen to music to set the mood they want to be in. If they want to be happy, they listen to lively music. If they are sad, they listen to lonely tunes. While some people simply listen to music for setting their mood, some make music to express what they feel.
If you are musically inclined, you are very lucky. You can create harmonious melodies and learning to play the piano is a good way to start. It lets you play multiple notes at the same time. To start your musical journey, here are seven digital pianos you can try.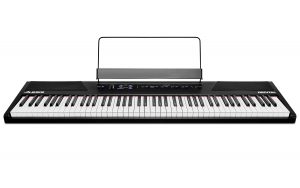 Specifications
Has 88 full-sized, semi-weighted keys
Has built-in speakers
Has four modes with 128 max polyphony
Includes power adapter
This 88-key digital piano is priced at only a little over $200. The Alesis Recital is perfect for beginners, but it can also serve its purpose for professionals as well.
The best thing about this piano is its lesson mode. You can spit the piano into areas with the same pitch and same voice. This enables the student and teacher to play side by side, which will make the learning process easier because you will be able to play the same notes and keys at the same time.
The Alesis Recital has five built-in voices. You can choose among piano, electric piano, organ, synth, or bass and by pressing two of the buttons together, you will be able to layer two sounds at the same time. This piano can also be connected to educational software to guide you in your learning.
This already has powerful speakers, but if it is still not enough, you can connect it to an amplifier or a speaker.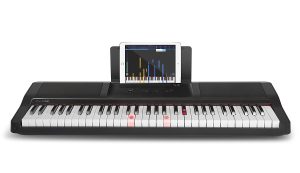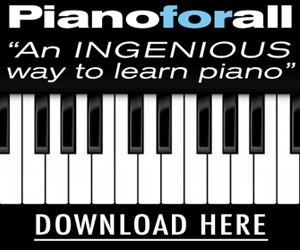 Specifications
Has 61 light-up keys
Has more than 128 instrument sounds
Has more than 4000 sheet music
Has more than 100 videos and games
Has a MIDI output and recording feature
This piano is the best option for those of you who want to learn piano by yourself. Be your own teacher by watching their massive selection of music sheets and play notes by following the light-up keys. The piano will wait for you to press the right key so you can easily follow along and play at your own pace. Connect your phone or tablet to access the sheet music.
In between breaks, you can play games by following the light-up keys. You can also play your favorite songs when you connect your device because the piano has built-in speakers Sing-along while you play by connecting a microphone to the keyboard.
You do not have to listen to piano sounds all the time because you can choose among over 128 instrument sounds. This piano is an easy way to learn to play the instrument.

Specifications
Has 76 keys
Has 574 voices
Has 165 styles
Has 154 preset songs
Has the Yamaha Education Suite
Has a Touch tutor lesson mode
Has USB connectivity
This keyboard is an upgrade from the Yamaha YPG-235. The keys feel somewhat similar to an actual piano so you can pretend like you are playing one by choosing the grand piano mode among the many different choices of voices and styles.
The 76 touch-sensitive keys will play the sounds as loudly or as softy depending on how much pressure you apply when pressing the keys. You can also connect your phone or tablet so you can play along with your favorite songs or simply listen to them through the built-in speakers.
A free downloadable songbook is included so you can play different songs and choose which instrument you want it to sound like. Unleash your musical creativity with the Yamaha PSREW300AD and its band backing tracks so you can play the chords in tune with the accompaniment.
                                                                                                                                                                
Specifications
Has 88 semi-weighted keys
Has 20 built-in voices
Has 60 preset songs
Has 50 accompaniment patterns in duet mode
Includes a sustain pedal and power supply
Have great value for your money with this $350 full-sized 88-key keyboard. The Alesis Coda has 20 built-in voices that you can spit and layer your choice of two at the same time. You can connect it to your phone or computer so you can take control of your virtual instrument.
Play your favorite songs through the built-in speakers, or you can play along with the duet mode with the 50 accompaniment patterns. Replay your tunes after recording with the User Record mode so you can listen to which parts need more practicing.
Practice and improve your skills with the 60 preset songs you can try. You can choose among 20 built-in voices that have high sound quality and add effects with the transpose control, EQ, reverb, and Chorus FX This is a portable piano you can take with you wherever you need it.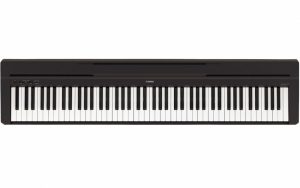 Specifications
Has 88 keys
Has 64-note polyphony
Has USB connectivity
Has built-in speakers
This piano is great for beginners and professionals alike. The keys are GHS-weighted, so you can feel like you are playing an acoustic piano with heavier keys on the low end and lighter keys on the high end. You need to apply the right amount of pressure to create the sounds. You can use this if you want a realistic feeling digital piano or if you want the kids to get used to heavy-weighted keys.
The P-45 also has dual mode so you can be able to hear two voices at the same time. This $480 digital piano only weighs 25-pounds so you can be able to bring it outside your homes. You can use this in performances, recitals, gigs, or in church.
The 64-note polyphony gives it that beautiful piano sound with or without headsets. Connecting this to your devices can let you access apps from Yamaha. This piano is worth the price.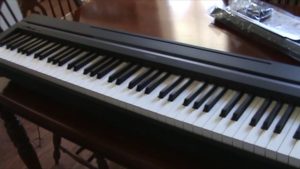 Specifications
Has 88 fully-weighted keys
Has ten different voices
Has dual mode
This Amazon exclusive model has 88 fully weighted keys to let you feel like it is a real piano. Beginners can get used to the pressure application so that they can practice for the real thing. You can choose among ten different voices, so you have a variety of high-quality sounds. You can layer these so you can add your creative style while playing or you can just simply go with the classic sound of the piano.
The Dual mode function lets you record what you play and you can also play it along with your favorite music pieces. Its Advanced Wave Memory makes it possible for the P71 to produce that beautiful, deep, and rich sound you look for in a digital piano.
You can connect this piano to your computer via the USB connectivity so you can easily record a copy of your creations to your software. Become the musical genius you really are by starting out with a high-quality piano.

Specifications
Has 88 keys
Has dual headphone outputs
Has 18 authentic piano tones
Has built-in speakers


The Privia PX-160 provides the dynamic and powerful quality of grand pianos thanks to Casio's Air Acoustic and intelligent Resonator) engine. Not only is it realistic sounding but it also feels realistic with Casio's tri-Sensor Scaled Hammer Action II keyboard. This technology has three sensors to allow the simulated Ebony and Ivory textured keys to let you experience a grand piano in a digital one.
You can also choose from a variety of sounds and voices and layer it with the PX-160's newly developed string ensemble. Play bass and two layered tones at the same time with its spit and layer capability.
This will also be great for students and teachers because they will be able to play the one piano side-by-side with the same pitch and tones. Record your masterpieces so you can replay your creations USB connectivity can also let you connect this piano to your Apple or Windows devices. Also, it has two headphone outputs on the front of the instrument.
Factors to Consider Before Buying a Digital Piano
Before purchasing anything, you must carefully make a wise decision which item will be of most use to you. There can be many different factors that may affect the decisions of different people, but for starters, please be guided by this basic list.
Sound Quality
The piano is a musical instrument, so the quality of the sound it produces is its make or break. Why would anyone buy a musical instrument if it will only be as good as a side table collecting dust somewhere in your house?
For digital pianos under $500, there are many brands out there that offer high-quality tones. A lot of them are boasting the realistic sounds from a real piano, so there is really no reason for you to settle for a terrible-sounding piano.
The digit piano you should buy should at least be super close, if not very realistic, to grand piano sounding. Also, make sure that it produces bright and clear tones.
Keyboard Action
Synth, semi-weighted, weighted, hammer and graded hammer action are some of the keyboard action features in digital pianos.
Professionals who have been using real pianos for most of their piano playing careers might prefer to buy keyboards with graded hammer action because it is the feature that closely resembles that of an actual piano.
Beginners who want to become serious piano players someday can also choose this, but you also have the options of lighter and softer keys if you want less pressure on your hands. Basically, it just comes down to how comfortable you are with how you play the keys.
Design and Portability
The piano is not a small thing that you can just stuff in a hidden place in your house; it is meant to be displayed in an adequately spaced area where it would not get damaged.
Digital pianos are perfect for those who do not have space for actual grand pianos. It is portable and does not take up much space. You can even take it with you should you need to perform somewhere else.
Aesthetics can also affect your choice. Every one of us has different preferences for the items we buy. Therefore, when you choose your piano make sure that it looks inviting, you would not want to be playing a keyboard that does not even make your eyes happy.
Cost
The price tag is always the first one we look at when it comes to making a purchase. Make sure that the piano you choose is cost-effective in the long run. If you happen to buy a piano that is cheap but has a terrible sound quality, then you just wasted away your money. Buying a slightly more expensive piano that produces the best sound and is of high quality then you can get your money's worth out of that one.
Conclusion
Before the rise of technology, pianos have been huge instruments that take up space and cost a lot of money. Now, they have shrunk in size but can still offer the realistic qualities of real ones.
Digital pianos are best for people who are only starting to learn to play the instrument. They can see and feel if they are serious about being the next Beethoven without spending too much. Professionals can also benefit from owning their own. They will be able to play anywhere because of the portable quality of digital pianos lets you take it with you to your performances, lessons, gigs, or church.
When you buy a digital piano, make sure that you consider your eve of expertise, how serious you want to learn it, and for what you will use it for. Avoid making the wrong purchase, and hopefully, this article has given you a bit of guidance.